Top 5 tracks in Australia…
Homebush street circuit
ANZ stadium is off somewhere to the right!
EST: 2009
Turns: 10
Length: 3.5 km (2.2 mi)
Location: Sydney Olympic Park, New South Wales
Major Events: V8 Supercars
Lap Record: 1:28.3839
The Homebush Street Circuit is a relatively new addition to the V8 Supercars calendar. Highly regarded as the most technical track on the calendar after Bathurst, this track races through the heart of Sydney Olympic Park-home to the Sydney 2000 Olympic Games. This track is arguably the hardest track on the V8 supercar due to the heavy braking, bumps, walls, narrow streets and large curbs that are required to be used in order to be fast. Its key feature is the narrow turn 2-4..a quick left right left chicane..which make or breaks a lap, also causing a heavy domino effect off every start.
Surfers Paradise street circuit

The Gold Coast is famous for its kerbs/curves..
EST: 1991
Turns: 15
Length: 2.98 km (1.85 mi)
Location: Surfers Paradise, Queensland
Major Events: V8 Supercars
Lap Record: 1:10.0851
Surfers Paradise is the glamour event of the V8 Supercar Calendar. Located in the heart of the Gold Coast Australia's number 1 tourist destination, the Surfers Paradise circuit is a popular attraction to international drivers. It has hosted multiple Champ car and INDYCAR events throughout its 24 year history. Despite the track being shortened in 2009, its key feature remains a series of chicanes at the end of the back straight which creates large airtime and requires the utmost precision by the drivers.
Melbourne Grand Prix circuit

2014 Australian Formula 1 Grand Prix is green!
EST: 1953
Turns: 16
Length:  5.303 km (3.296 mi)
Location: Albert Park, Melbourne, Australia
Major Events: Australian Formula 1 Grand Prix, V8 Supercars
Lap Record: 1:24.125
The Albert Park Street circuit is one of the few circuits left on the F1 calendar that is 'a real race track'. Unlike Sochi, Abu Dhabi and a newly reworked Spa. the Melbourne Street Circuit uses gravel traps and grass giving the drivers no room for error, forcing them to push the limits without making mistakes. The grandstand capacity for Albert Park is 80,000 creating a great atmosphere. Its pit lane building remains onsite all year round and is used for indoor sports. Its key feature is turns 11 and 12 being a high g-force left then right where the drivers breathe off the throttle and immediately back, often resulting in some scary moments on the exit.
Mount Panorama

Australia's great race

The elevation change just doesn't do it justice on tv.
EST: 1938
Turns: 23
Length: 6.213 km (3.861 mi)
Location: Bathurst, New South Wales, Australia
Major Events: V8 Supercars
Lap Record: 2:02.6701
The Mount Panorama Circuit located in Bathurst (200km West of Sydney) is a motorsport phenomenon. The undulation and history of the circuit makes it stand out in the world of auto racing. It owns the fastest corner in touring car racing (the chase) and is one of the most feared tracks in the world. It has so many key features that it is hard to narrow down to one however 'Brocks skyline' takes everyone's breath away. No words give justice to skyline.
A few honourable mentions include… Phillip Island, Sandown, Winton and Townsville Street circuit.
Adelaide street circuit

Clipsal's famous Senna Chicane

Every major grandstand is covered!

Massive crowds venture to Clipsal each year
EST: 1985
Turns: 15
Length: 3.219 km (2.012 mi)
Location: Adelaide, South Australia
Major Events: V8 Supercars
Lap Record: 1:17.9726
The Adelaide Street Circuit, home to the first event on the V8 Supercar calendar is the Clipsal 500 is widely regarded as the best touring car event in the world. Nothing comes close to the excitement and atmosphere throughout the Adelaide Parklands during the 4 day race meeting. The track itself is very unforgiving with a nasty turn 8 which has claimed many cars as well as the lives of some drivers. The circuit itself is the most popular on the calendar for drivers around Australia ahead of Bathurst and Phillip Island. Its key feature is turn one and two 'Senna Chicane' which requires a lot of precision and results in a lot of air time. The Australian Grand Prix was held at this circuit from 1985 to 1995.
Top 5 Tracks in North America…
Sonoma Raceway

Notice the infield drag strip
EST: 1968
Turns: 12
Length: 2.52 mi (4.05 km)
Location: Sonoma, California
Major Events: AMA Superbike, WTCC, Verizon IndyCar Series, NASCAR Sprint Cup Series, NHRA
Lap Record: 1:21.688
Sonoma also known as Sears Point Raceway or Infineon holds one of the two road course races on the NASCAR calendar. Jeff Gordon has dominated this track over the past 26 Years with 5 wins, 5 poles and over 450 laps led. Its key feature is the turn 1 uphill rise into turn 2-an off camber right hander which drops off on the exit.
Road Atlanta

You gotta have a really balanced car to get around Road Atlanta
EST: 1970
Turns: 12
Length: 2.54 mi (4.088 km)
Location: Hall County, Braselton, Georgia, USA
Major Events: Petit Le Mans, AMA Superbike, United SportsCar Championship
Lap Record: 1:06.242
Road Atlanta is a highly underrated and underestimated track located in the south. Picturesque forest surrounds an amazing fast and flowing track that every driver needs to see at least once. Its key feature is turns 2 through to 5-a series of flat out esses that lead onto a full commitment 80 degree corner exiting onto a big ripple strip.
Barber Motorsports Park

The most beautiful circuit in the world!
EST: 2003
Turns: 15
Length: 2.38 mi (3.83 km)
Location: Birmingham, Alabama, USA
Major Events: INDYCAR, MotoAmerica
Lap Record: 1:06.7750
Barber is a fairly new track to the INDYCAR calendar however is the most physical of any track in the USA. Its undulation and high speed corners results in high G-Force and high arm pump. Its key feature is the sharp right left right chicane (Turn 7) which requires large "thangs" as they say in Bama.
Daytona International Speedway

Just look at that stadium..

The great American race
EST: 1959
Turns: 4
Length: 2.5 mi (4 km)
Location: Daytona Beach, Florida, USA
Major Events: NASCAR, IMSA United Sports Car Championship Rolex 24 at Daytona, ARCA RE/MAX Series, AMA Motocross
Lap Record: 0:40.364
Daytona holds the great American race once a year the Daytona 500. The track is extremely tight and flat out. It used to be extremely bumpy up until its revamping in 2010. Daytona however has claimed the lives of 22 drivers, the most notable being Dale Earnhardt Snr. Its key feature is the notorious turn 4 and front stretch to the start finish line which has seen some of the most spectacular wrecks in all of motorsport.
A few honourable mentions include… Talladega, Sebring, Laguna Seca, Bristol and Watkins Glen
Indianapolis Motor Speedway


See the golf course in the middle?

The start of the Indianapolis 500

Stands sell out each year
EST: 1909
Turns: 4
Length: 2.500 mi (4.023 km)
Location: Indianapolis, Indiana
Major Events: INDYCAR, NASCAR, MotoGP
Lap Record: 37.895
The Indianapolis Motor Speedway home to the Indianapolis 500 is the greatest spectacle in motorsport and holds the 3rd largest attendance of any sporting event in the entire world upwards of 300,000 people. INDYCAR reach speeds of 240mph (385kph). To win the great race and kiss the bricks is the ultimate prize in motorsport dating back 115 years.
Top 5 tracks in the world…
Marina Bay Street Circuit

Formula 1's first night race
EST: 2008
Turns: 21
Length: 5.065 km (3.147 mi)
Location: Singapore
Major Events: Singapore Formula 1 Grand Prix
Lap Record: 1:48.574
The Singapore Grand Prix is the longest race on the F1 calendar which is hosted by the Marina Bay Circuit. This track held Formula 1's first ever night race and is a true spectacle to motorsport lovers around the world. There are a lot of tight, fast, on the edge 90 degree corners that usually introduce you to nothing but barrier on the exit. Its key feature is a very tight left then right (Turns 18-19) that take you underneath a Grand Stand on a floating platform. Wow to the designers!
Circuit de la Sarthe

EST: 1923
Turns: 38
Length: 13.629 km (8.469 mi)
Location: Le Mans, Pays de la Loire, France
Major Events: Le Man 24 Hour, Moto GP
Lap Record: 3:19.074
The Circuit de la Sarthe is home to the 24 hours of Le Man, the premier endurance race of the year. With a capacity of 100,000, the event is one of the most highly attended of the year. The Circuit de la Sarthe circuit however has seen many fatalities over its 92 year history, the most recent being Allan Simonsen. Its key feature is the Mulsanne straight which is 6 km (3.7 mi) which is now split by 2 chicanes.
Circuit de Spa-Francorchamps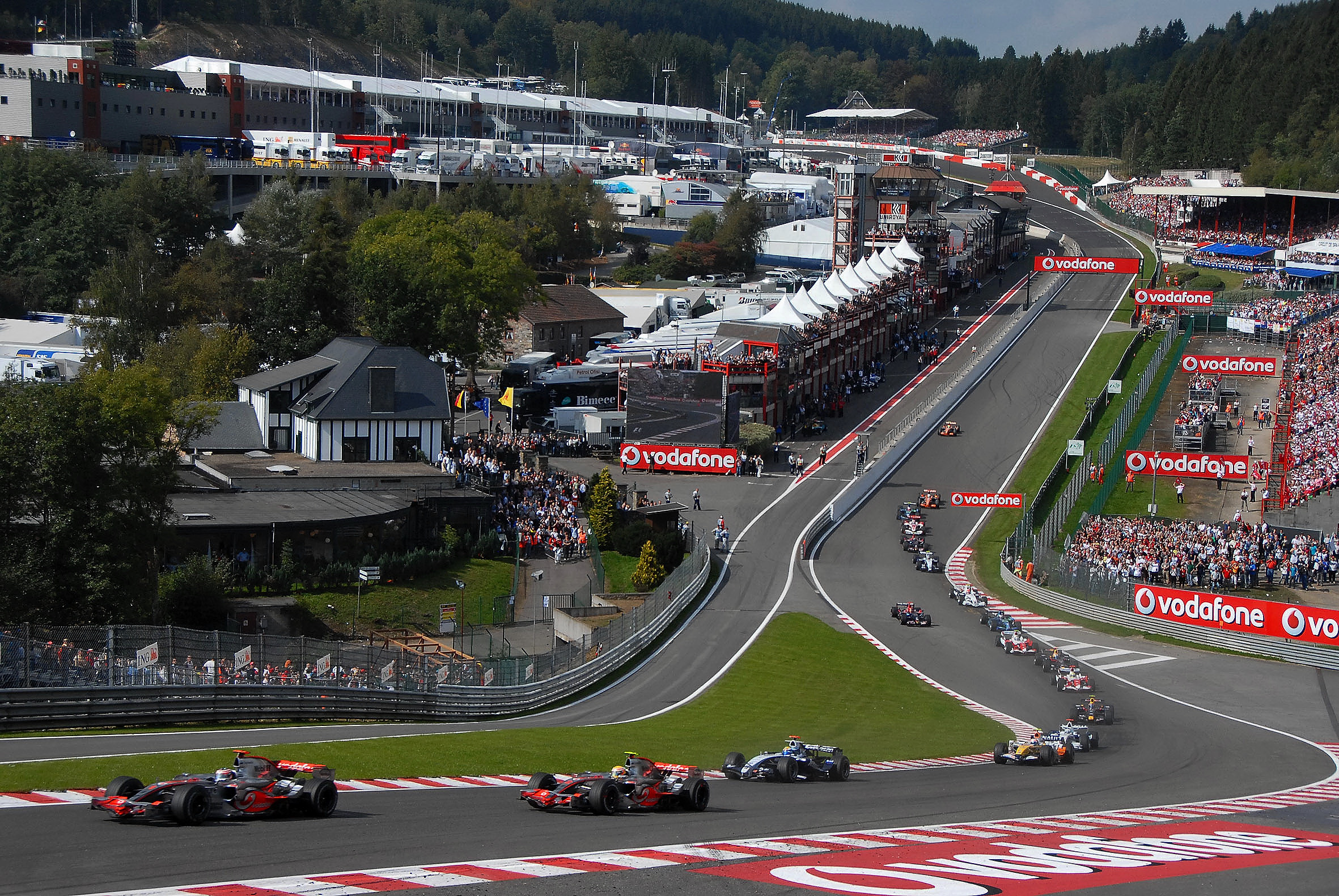 EST: 1920
Turns: 20
Length: 7.004 km (4.352 mi)
Location: Francorchamps, Stavelot, Belgium
Major Events: Belgian Formula 1 Grand Prix, WTCC, WEC 6 Hours of Spa, DTM, Spa 24 Hour
Lap Record: 1:47.263
Spa is one of the legendary tracks in F1 history which consists of one of the longest straight on the whole calendar. The circuit itself is not actually located in Spa but lies in the vicinity of the town of Francorchamps. Its key feature is the iconic Eau Rouge corner… 2 words "YouTube it".
Nürburgring combined circuit

The Formula 1 circuit with the turn off to the Nordschleife at the last corner

This beast (Pagani Zonda) holds the 17th fastest lap of any production vehicle
EST: 1927
Turns: 170
Length: 25.947 km (16.123 mi)
Location: Nürburg, Germany
Major Events: German Formula 1 Grand Prix, Superbike World Championship, DTM, 24 Hours Nürburgring, 1000km Nürburgring
Lap Record: 8:10.921
The Nürburgring is notoriously long and dangerous hence why it is so rewarding. More fatalities have occurred at this track than any other. The circuit is used by almost all car manufacturers as a baseline comparison against other cars to gauge where the speed/performance of their car is at (http://en.wikipedia.org/wiki/List_of_N%C3%BCrburgring_Nordschleife_lap_times) this is due to the circuit literally having every last characteristic you can think of.
A few honourable mentions include… Silverstone, Monza, Imola and Guia Circuit, Macau.
Circuit de Monaco
EST: 1929
Turns: 19
Length: 3.340 km (2.075 mi)
Location: Monte Carlo, Monaco
Major Events: Monaco Grand Prix, Formula E
Lap Record: 1:14.439
The Monaco Street Circuit races through the city streets of Monte Carlo and La Condamine around the harbor of the principality of Monaco. The Monaco circuit is by far the hardest track on the Formula 1 calendar due to its very sharp narrow corners along with heavy bumps and crazy undulation. Monaco truly brings the best drivers to the front. Its key feature would have to be the tunnel (turn 9) where visibility drops and a car can lose 20–30% of its downforce due to the unique aerodynamic properties of the tunnel.

Truly incredible piece of history